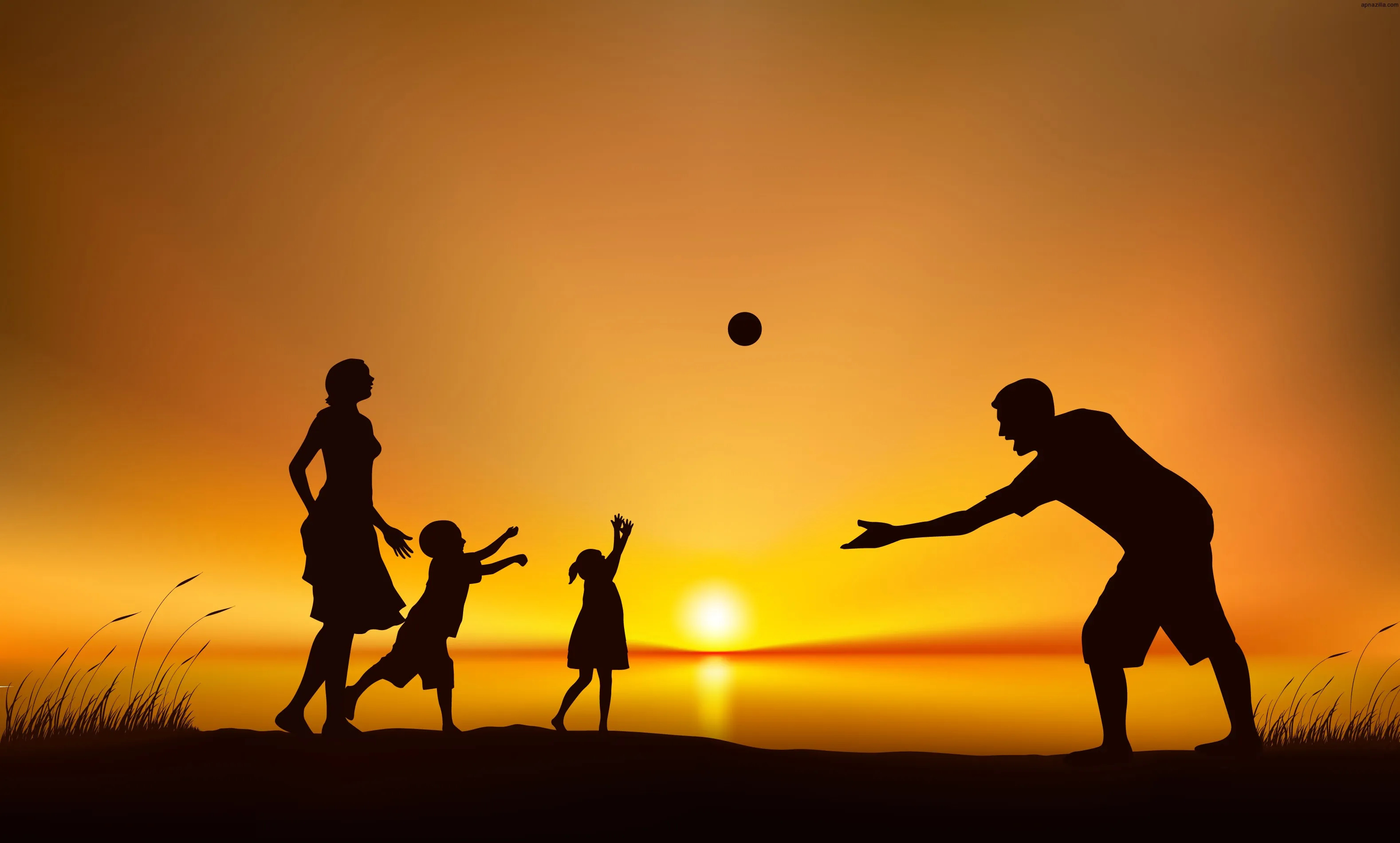 Why an Open Enrollment Period Matters
Open Enrollment 2024 is here, your opportunity to secure the ideal health insurance plan tailored to your medical needs. But wait, there's more! Did you know that depending on your circumstances, you might be eligible to apply for coverage beyond the typical enrollment period?
The open enrollment period isn't just a mere formality – it's a crucial safeguard for you and the entire insurance landscape. By restricting enrollment to a specific timeframe, it ensures fair pricing and benefits for all. No more last-minute rushes to buy insurance when illness strikes. This system keeps costs reasonable and ensures that those contributing to insurance reap the rewards.
Affordable Care Act (Obamacare) Open Enrollment
Obamacare, the beacon of subsidized health insurance, is your gateway to accessible and affordable coverage. The Health Insurance Marketplace, often hosted on HealthCare.gov, is where most Americans go to secure their health insurance or explore cost assistance options. Yet, there's a twist – your application location may vary depending on your state.
For most states, the ACA Open Enrollment period runs from November 1 to January 15 each year. Keep in mind, the federal government can issue nationwide extensions, so stay tuned for updates. Some states like California, Colorado, and Washington, D.C., have even passed laws for permanent extended open enrollment periods, offering you more flexibility.
Ready to seize the opportunity? Whether you're seeking coverage through your employer, Medicare, Medicaid, Medigap, or CHIP, our insurance advisors are here to guide you. Take the first step toward securing your peace of mind. Click below to get a quote and explore your options today!
When Is Open Enrollment for Private Insurance?
Are you in search of health insurance options beyond the standard Open Enrollment period? While HealthCare.gov serves as a robust platform for health insurance, there are still numerous private insurance policies that cater to specific needs, often offering an extended range of choices and higher coverage levels.
These private insurance plans, only accessible through licensed insurance agents, could potentially match or even beat the affordability of ACA plans. However, it's crucial to note that they do not qualify for income-based assistance available through the Affordable Care Act.
Private insurance providers typically align their enrollment schedules with those of HealthCare.gov, ensuring consistency in the process. While there are only a few exceptions allowing enrollment outside of this designated timeframe, some private health plans may not meet the criteria for qualifying health coverage.
In your quest for accessible health insurance, remember that Craven Insurance can provide insight into whether your chosen the perfect blend of coverage for the price you pay.
Missed Open Enrollment? You Still Have Options
If you've missed the standard Open Enrollment window and are in need of affordable health insurance solutions, there's no need to worry. There are still viable plans available to accommodate your healthcare needs.
Coverage Loss
If you or someone in your household has recently lost health insurance or anticipates losing coverage within the next 60 days, the Special Enrollment Period can be your lifeline. Common reasons for coverage loss include:
Ineligibility for federal plans like Medicaid, Medicare, or CHIP
Ceasing coverage through a family member
Individual plan discontinuation or other causes
Loss of employer-provided health coverage
Eligibility Change
Certain life events can expand your eligibility beyond the usual open enrollment timeline. Examples include becoming an American citizen, gaining membership in a federally recognized tribe, release from incarceration, or concluding service as a VISTA, NCCC, or AmeriCorps member.
New HRA or QSHERA Coverage
If your employer introduces coverage through an HRA (Health Reimbursement Arrangement), Qualified Small Employer Health Arrangement (QSHERA), or a similar plan, you can make necessary adjustments. Keep in mind that you'll need to enroll via telephone rather than through the HealthCare.gov website in this scenario. The Special Enrollment Period is your safety net for adapting to life's twists and turns, ensuring you have access to the health insurance you need.
When Is Medicare Open Enrollment?
Medicare, the federal health insurance program tailored for seniors aged 65 and older, individuals with certain disabilities, and those diagnosed with end-stage renal disease, is a vital component of our healthcare system. This program consists of four distinct parts, each offering unique coverage options for the year 2024:
Medicare Part A: Providing essential hospital coverage, encompassing hospice care, hospital stays, skilled nursing, and, in some cases, home care.
Medicare Part B: Offering comprehensive medical coverage for doctor visits, preventative treatment, and various outpatient care services.
Medicare Part D: Addressing prescription drug coverage to help manage your medication expenses.
Medicare Advantage (Part C): A bundled Medicare package delivered by private insurers, serving as a noteworthy alternative to the traditional Medicare approach.
With a multitude of options at your disposal, it's crucial to be well-versed in the key dates for Medicare open enrollment in 2024.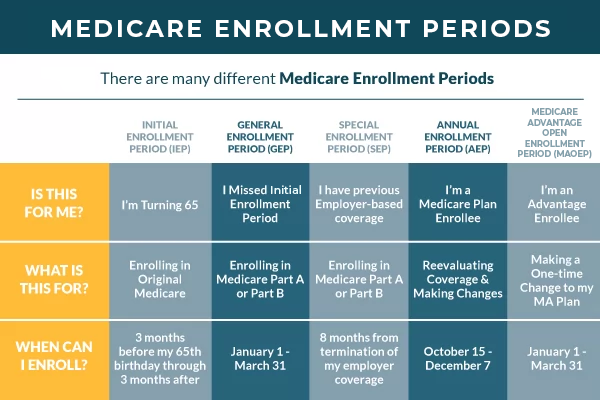 Initial Enrollment Period
While some individuals are automatically enrolled in Medicare, others possess the freedom to choose when they become eligible. Automatic enrollment occurs for those receiving disability or retirement benefits from either Social Security or the Railroad Retirement Board. These individuals are automatically enrolled in both Medicare Part A and Part B. However, the option to opt out of Part B exists for those wishing to retain coverage through an alternative insurance plan. Keep in mind that choosing to enroll in Plan B at a later date carries a higher premium, unless done during a Special Medical Insurance Enrollment Period.
For the rest, there's a seven-month window for enrolling in Medicare, commencing three months prior to one's 65th birthday and concluding three months after the birthday month. Waiting until your 65th birthday to enroll will result in delayed coverage. If this period is missed and no special enrollment eligibility exists, annual open enrollment is available from January 1st to March 31st, with coverage becoming effective on July 1st.
Special Enrollment Period for Medicare
Certain circumstances can bestow individuals with a special enrollment period for Medicare, with the exception of those with end-stage renal disease (ESRD). If you meet the criteria, enrolling in Part B is penalty-free. You may apply at any time if you or your spouse are still employed and covered by an employer-provided health plan. You have eight months to enroll without incurring a higher premium after your employment concludes or coverage is lost. Missing this eight-month window necessitates waiting for the next open enrollment period, often incurring late penalties.
Medicare Advantage and Part D Enrollment
Dissimilar to the annual obligations of Obamacare open enrollment, Medicare doesn't require annual re-enrollment to maintain coverage. However, specific periods govern Medicare Advantage and Medicare Part D enrollments. These periods enable plan changes and new enrollments, and they operate on distinct timelines from those of Part A and B.
During these specialized enrollment periods, you can make various adjustments, including:
Switching between Medicare Advantage and Original Medicare.
Enrolling in a Part D plan alongside Original Medicare.
Opting for a Medicare Advantage plan incorporating prescription drug coverage.
Transitioning to a Medicare Advantage Plan without drug coverage.
Removing Part D coverage altogether.
For those already enrolled in a Medicare Advantage plan, the opportunity exists to switch to another Medicare Advantage Plan or revert to Original Medicare between January 1 and March 31, 2024. Understanding these Medicare open enrollment nuances empowers you to make informed choices regarding your healthcare coverage.
Medigap Enrollment
Medigap, a supplemental policy offered by private providers, is tailor-made to fill the voids left by Original Medicare, catering to additional costs that often slip through the cracks. This includes those pesky copayments and deductibles. However, it's crucial to note that Medigap doesn't encompass certain common expenses often encountered by seniors, such as private nursing, eyewear, long-term housing, or hearing aids.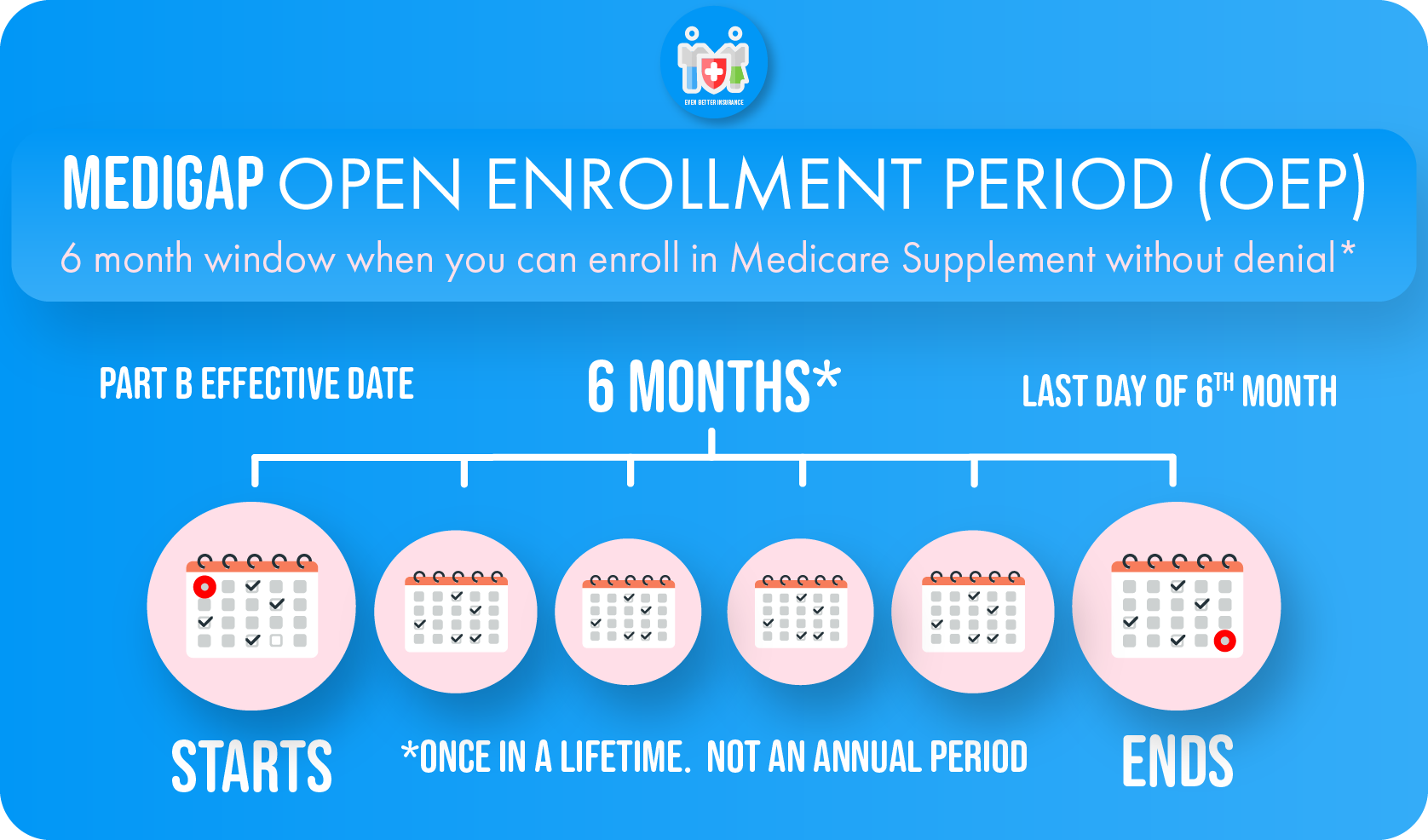 Medigap eligibility hinges on being enrolled in both Medicare Part A and Part B. For prescription drug coverage, Medicare Part D can be acquired alongside Medigap. Yet, it's essential to remember that combining this supplementary coverage with an Advantage Plan is against the law. When it comes to Medigap plans, patients are met with a variety of options, conveniently labeled with letters.
As of 2020, individuals becoming eligible for Medicare after January 1, 2020, are no longer entitled to Supplement Plan F or Plan C.
Here's a glimpse of the Medigap Open Enrollment Period (MOEP): it's a one-time opportunity that springs into action on the first day of the month an individual turns 65, extending six months beyond this momentous milestone. As long as you're 65 or older and have enrolled in Medicare Part B, insurance providers are legally bound to offer their services. While eligibility remains open throughout the year, individuals venturing beyond the MOEP boundaries might face denials or additional charges. Federal legislation demands that Medigap is offered at the most competitive rates during the MOEP. Additionally, some states extend coverage regulations to individuals under 65, although this may involve additional costs.
Understanding the intricacies of Medigap enrollment equips you with the knowledge to make informed choices about your healthcare coverage, ensuring you're not caught off guard by unexpected expenses.
Which Insurance Plans Do Not Require Open Enrollment?
Curious about insurance plans that don't require you to wait for an open enrollment window? Here's the lowdown:
Medicaid and CHIP Enrollment
If you meet the criteria for Medicaid or the Children's Health Insurance Program (CHIP), you're in luck – you can enroll at any time during 2024. Medicaid extends a helping hand with free or highly affordable healthcare coverage, tailored for low-income families, determined based on Modified Adjusted Gross Income. Meanwhile, CHIP steps in to assist families with uninsured children who don't qualify for Medicaid but are unable to shoulder the expenses of private healthcare. Enrolling in either program is a breeze – simply reach out to your state's Medicaid agency or the applicable CHIP program, or you can even submit an application via the Marketplace.
Employer-Based Health Plans
Employer-provided health plans operate on a different schedule than the Marketplace and private plans. While the exact timing can vary from one year to the next, most often, the selection window opens during the fall. Employers play a pivotal role in ensuring their employees are informed about this window and who is eligible for healthcare enrollment. Keep in mind that employer-based plans may offer a limited array of policy options, or in some cases, there might be just one healthcare choice on the table.
Short-Term Health Insurance
Missed the 2024 open enrollment period and need coverage pronto? Short-term health insurance is your go-to solution. It provides the necessary coverage until you're ready to secure a policy through the ACA or another avenue. The beauty of short-term insurance lies in its flexibility – you can enroll throughout the year, depending on your state of residence.
Knowing your options outside of the standard open enrollment timeframe empowers you to make the right choice for your healthcare needs, ensuring you're never left without coverage when you need it most.